FAQ's
Here we will address the many questions guest have about whales and kayaking San Juan Island.
Whats the best time of year to see killer whales?
Orca Whales can be seen anytime of the year in the San Juan Islands but there are better times of the year than others. The months of May through mid October are generally the best months to encounter Orca Whales.
What if we do not see whales?
It is true that we do not see whales all the time. When we don't have whales in the area we still operate the tours as usual. The trips are designed so that you have plenty of beautiful scenery and the opportunity to see other wildlife.
Are Killer Whales Endangered?
Orca Whales as a whole are not endangered though all marine mammals are protected under the Marine Mammal Protection Act. The Souther Resident population of Orcas Whales have been give special designation and are listed as endangered. When the Souther Resident Orca, the most commonly seen Orcas around the San Juan's, were listed critical areas were designated or their recovery. The goal is to project areas the animals spend most of their time. Below is the NOAA Map of Listed Critical Habitat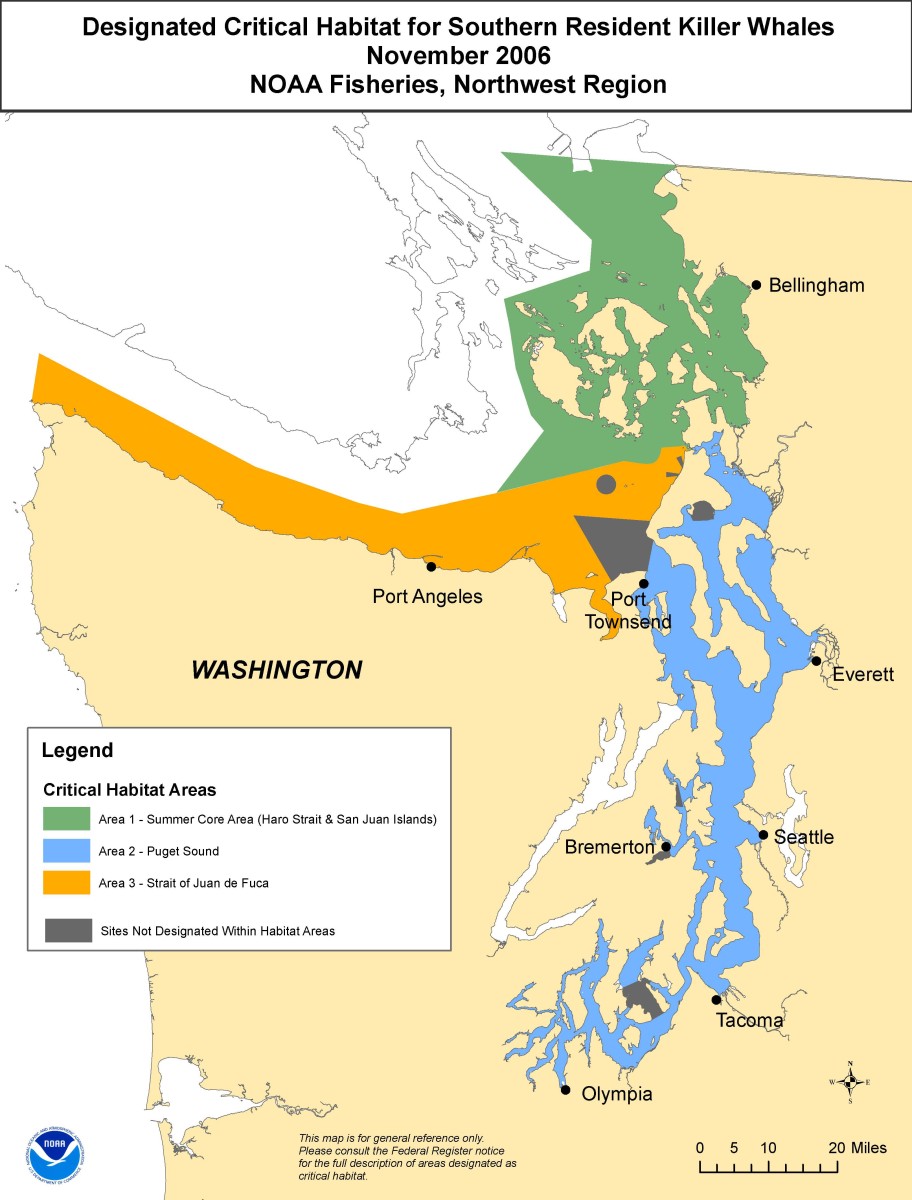 What are the current threats to Southern Resident Killer Whales?
When the Southern Residents were listed as endangered in Canada in 2001 and in the United States in 2005, recovery plans were drafted. These recovery plans listed four main threats to the survival of Southern Resident Killer Whales. 
1. Reduced quantity and quality of prey (Chinook/King/Spring salmon)
2. High environmental levels of persistent biochemicals, such as PCB's and flame retardants, that have known harmful effects on marine mammals (eg. immune system repression and reproductive system dysfunction)
3. Sound and disturbance from vessel traffic and shipping
4. Potential oil spills
How close can we get to whales?
There are many laws, guidelines and regulations we follow while Orca Whales are in the area. All have been put in place to help protect the Southern Resident Killer Whale population from potential disturbances. All guide for Discovery Sea Kayaks complete and annual training through the local Whale Museum in order to stay current with new regulations and laws. Discovery Sea Kayaks is also a member of the San Juan Island Kayak Association where all member have agreed to the best practices for kayaker around killer whales. In Washington State we are not to pursue or approach killer whales with in 200 yards. Though this distance may sound far we do have close encounters while kayaking close to the shore.
Do other companies have better chances to see whales?
It is very rare for one company kayaking the west side to see whales and the other companies not see them.  Here is what you need to know and ask your prospective outfitter.  First, is the tour route along the west side of  San Juan Island and specifically does it launch from San Juan County Park.  This is the launch location for many commercial kayak outfitters and best launching point to access the waters where killer whales are most frequently seen.
You may see outfitters claiming to have more success seeing whales than other companies.  This is a hard one to prove but given we are mostly all in the same area and departing at the same time of day it is really unlikely that one company has more encounters than the next.  Even if some outfitters say they are in radio contact with whale watch boats so they know where the whales are.  All guides carry VHF radios and monitor channels used  by whale watch boats and research vessels.  It far from a secret where the whales are if they are in the area.
Do I need to have a reservation?
We recommend reserving your kayak tour in advance to secure your space.  Though we are usually able to accommodate walk-in's, sometimes we are pre booked.
Will I get the date I want if I book online?
It is very rare that we will not be able to get you on the water for your specified date.  We are able to place 99% of bookings for the requested dating.  If for any reason the requested dates are not available, you will be contacted immediately.
Do I need to be an experienced kayaker?
The short answer is NO.  We take guest kayak from all levels from no experience to expert.  For half day, full day and sunset tours you just need to be of average physical condition to enjoy your kayak tour.  If you are planing on going on a multi-day kayak tour sometimes it is best to be a bit more prepared for the longer days in the kayak.  Though we break up the day with stops along the way, we simply paddle more miles that the day tours.
Discovery guides are very good at what they do.  Part of that is teaching you the basics to be proficient while on the water kayaking.  Their knowledge will help set the kayak up in the best combination for the most efficient travel.  Listen to their instruction and follow their lead on the water and you will be happy you had a Discovery Sea Kayak guide along.
Do you provide single or two person kayaks?
All of our tours use two person kayak for guest.  Your guide is most often in a single kayak unless the tour has an odd number of guest.  We use two person kayak from many reason.  Two person kayak provide an easy to use kayak for various skill levels. Having all guest in the same style kayaks improves travel dynamics.  Two person kayak offer more stability and comfort for those less used to being in a kayak for a day.  On multi-day tours two person kayaks provide the storage capacity needed to carry all necessary equipment and food.
Do you provide lunch on your Day Kayak Tour?
No we do not provide lunch or any food items on our half day or day kayak tours.  Given the daily operation demands for these style of tours we feel you can better select what flavor you wish to have for lunch than we can.  With the various food restrictions and allergies we would have to prepare a very basic lunch that may not satisfy everyone's needs.  We do ask that you have your lunch with you at check-in time for your tour.  There are many great options in town near our shop to find wonderful food.
Will I be stuck in a large group?
NO.  We strongly feel the best way to provide you the service you are seeking is to limit the size of our tours.  The maximum size group that we take out for all tours except custom tours, is 8 guest.  8 guest equals 4 tandem kayaks which is a very small and non intrusive group size.  Traveling in small groups allows the pace to better suit the groups needs.  Guides can spend more time individually with guest and take you into areas a large group simply will not fit.  You should never have a hard time hearing what your guide has to say when rafted in kelp beds enjoying all the intertidal life.  Safety is another reason we like to travel in small groups.  With 1 guide along to tend to 8 guest it is much easier to manage any safety issue if any arise.
Can I book a tour for more than 8 guest?
YES.  As a custom group you can arrange to have a group of your own with 8 guest or more.  We add more guides to the tour as the number increase to ensure safety and your enjoyment.
Should I Tip my Guide?
Guide are always very appreciative of any gratuities you leave.  The general tip is 10% of the total for your kayak tour. Some guest leave more depending on their experience.  You can tip your guide directly or leave a gratuity for them at the shop.
What is the minimum age for kayak tours?
Twelve (12) years old is the minimum age that we take on our west side half day, full day or sunset kayak tours.  The same is for our multi day kayak tours.  Given the exposure of the area we kayak and the cold water environment, we feel the west side of San Juan is not suitable for paddlers under twelve.  If you have younger paddlers please feel free to give us a call as we can help find the best outfitter in our area that can provide a safe and fun tour for your younger group.
What should I wear?
Generally we recommend that you stay away from cotton clothing.  Once cotton is wet it will not keep you warm and it does not dry out quickly.  Think as if you are going out for a day hike. Quick dry, poly pro and wool are the best choices for being on the water.
Do you provide any extra gear?
YES.  Discovery Sea Kayaks in known for providing extra gear.  In fact if other companies are offering gear, they are reaching for the bar we set.
Half Day, Full Day and Sunset Tours: Beside the necessary paddle equipment. Each person will be provided a dry bag for the day.
Multi Day Explorer Tour:  This tour is set up with all provisions besides your personal clothing. Please check out the Explorer page for details
Guide Rental Multi Day Kayak Tour:  This is set up for you to provide your own gear.  Please check out the Custom Kayak Tour page
Will I get wet?
Sea Kayaking is a water sport and there is always the potential to get wet.  We recommend that you bring footwear that you don't mind getting wet and sandy.  Entering and exiting the kayaks near the shore tends to be wet.  So your feet are often if not always going to get wet.
What about the weather?
We don't go out if the weather is stormy or if the seas are rough. Light rain is usually no problem.