April 14, 2016
San Juan Island has long been know as a whale watching destination and draws visitors from all over the world. Most visitors to the island are here to chance an encounter with one of the resident orca pods. Today the whale watch industry has grown and along side it so has the kayak tour industry. There are many choices when it comes to selecting a company to go with and it can be confusing at times.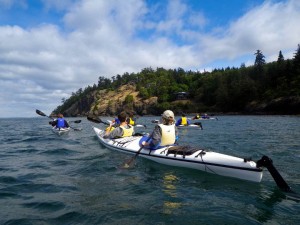 With companies making claims of guarantee whale sightings or they have exclusive routes in whale watching territory, none of which is true. Mainly most of the companies operate in the same area or close to it. The differences between companies are mainly the quality of guides, equipment and your experience. This is why Discovery Sea Kayaks has gained such high praise on sites such as Trip Advisor and Yelp. Discovery Sea Kayaks strives to find the best staff and operate the best kayak tours in the most responsible manner. As members of the local San Juan Island Kayak Association, we are held to a higher standard of operations.
Offering small group kayak tour experiences allows our guests to have better connection with their guide and never feel left behind. On rougher water days the small groups are much safer and more comforting to guests.
Our San Juan Island Full Day Kayak Tours follows the classic route down the west side. Simply meet us at our shop in the heart of downtown Friday Harbor and we transport everyone to the west side of the island to San Juan Co Park. The beautiful little pocket beach names Small Pox is our starting destination. Once on the water we travel south along the shore taking breaks to learn about region and its wildlife. We will pass by the famous Lime Kiln Lighthouse and make a stop in another pocket beach, Deadmans, for lunch. Yes it is true that some companies provide lunch on their tours, for an additional cost of course, but we prefer to save you a few bucks and let you pick up something from our local deli for yourself. The Full Day Kayak Tour offers an excellent opportunity to encounter orca whales. Kayaking what is know as the "Orca Corridor" the more time you can spend in the area the more likely you will see whales.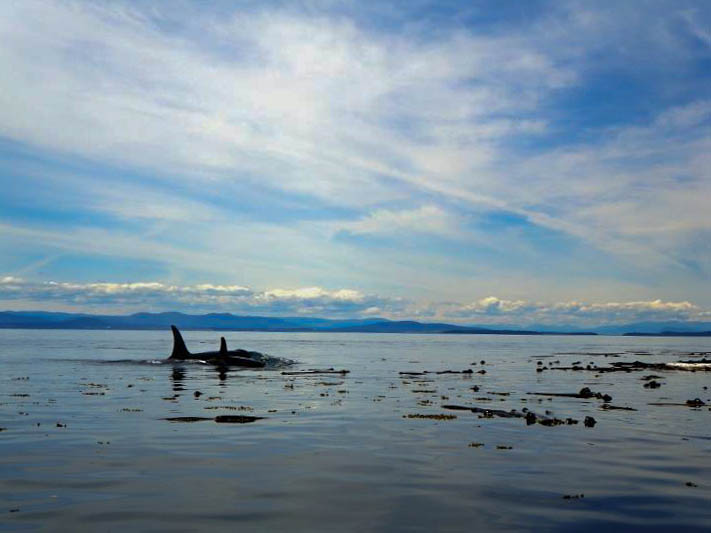 Joining the Half Day Kayak Tours is a great idea as well. This particular kayak tour works out great for people looking to pack more into one day than just kayaking. With 3 different departure times in the summer it is easy to find a time that fits you schedule. If you want to rent a bike from Discovery Sea Kayaks/Discovery Adventure Tours or reserve a San Juan Island Hiking Tour, you will still have time to get some kayaking in during the day. Half Day Kayak Tours follow the same route as the Full Day Tour. The main difference is we will not be stopping at the Deadman Bay pocket beach. You still have the whale watching opportunities and pass though the same beautiful areas.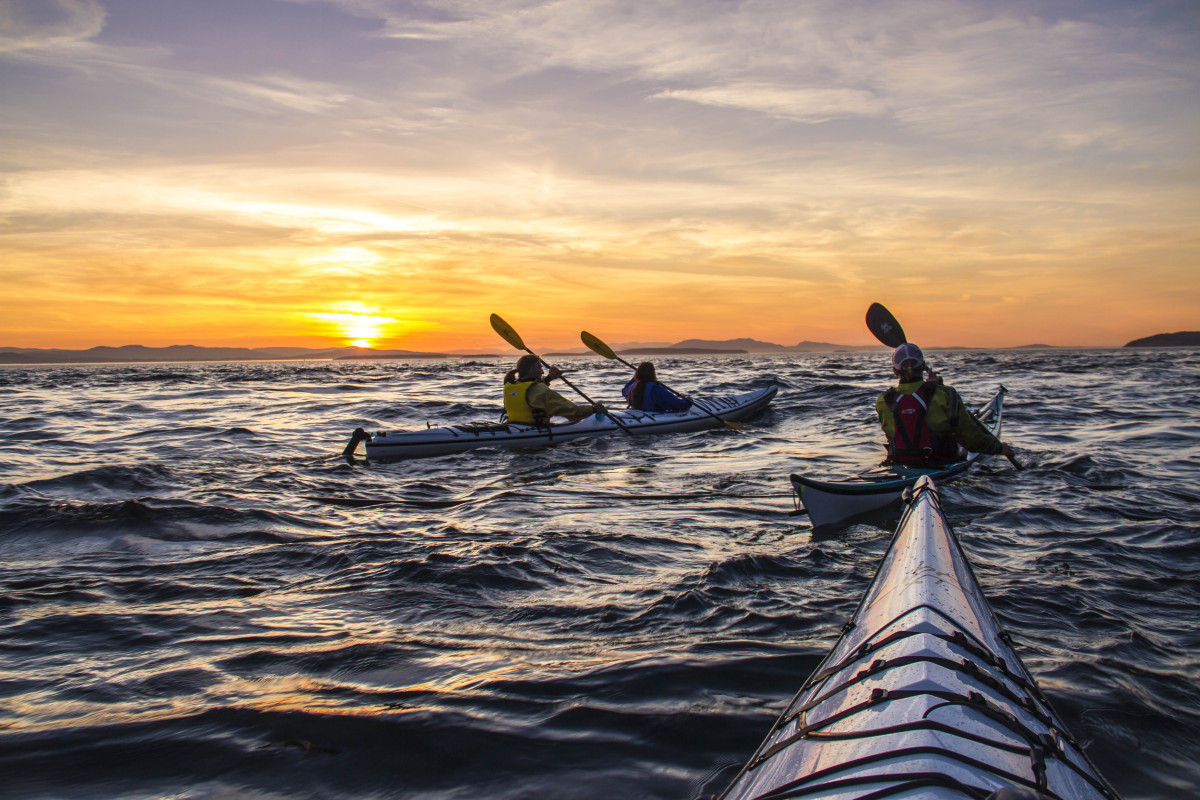 The last San Juan Island kayak tours I will discuss on this post is the Sunset Kayak Tour. By far one of my favorite tours. Sunsets from San Juan Island are amazing and being on the water in a kayak is even better. Enjoy the calmer part of the day with less kayak and boat traffic. If you have the time to book more than one kayak tour the Sunset Kayak Tour should be on the list. We travel the west side of San Juan and stay on the water for sunset. As we make our way back to the beach the sun has set and twilight has taken over. We make our way back to town with great memories of the beautiful sunset.
If you are planning a vacation to San Juan Island and looking to pack in adventure with on of the best kayak tour companies in the business, give us a call. From kayak tours, bike rentals and hiking tours we are your adventure connection to San Juan Island.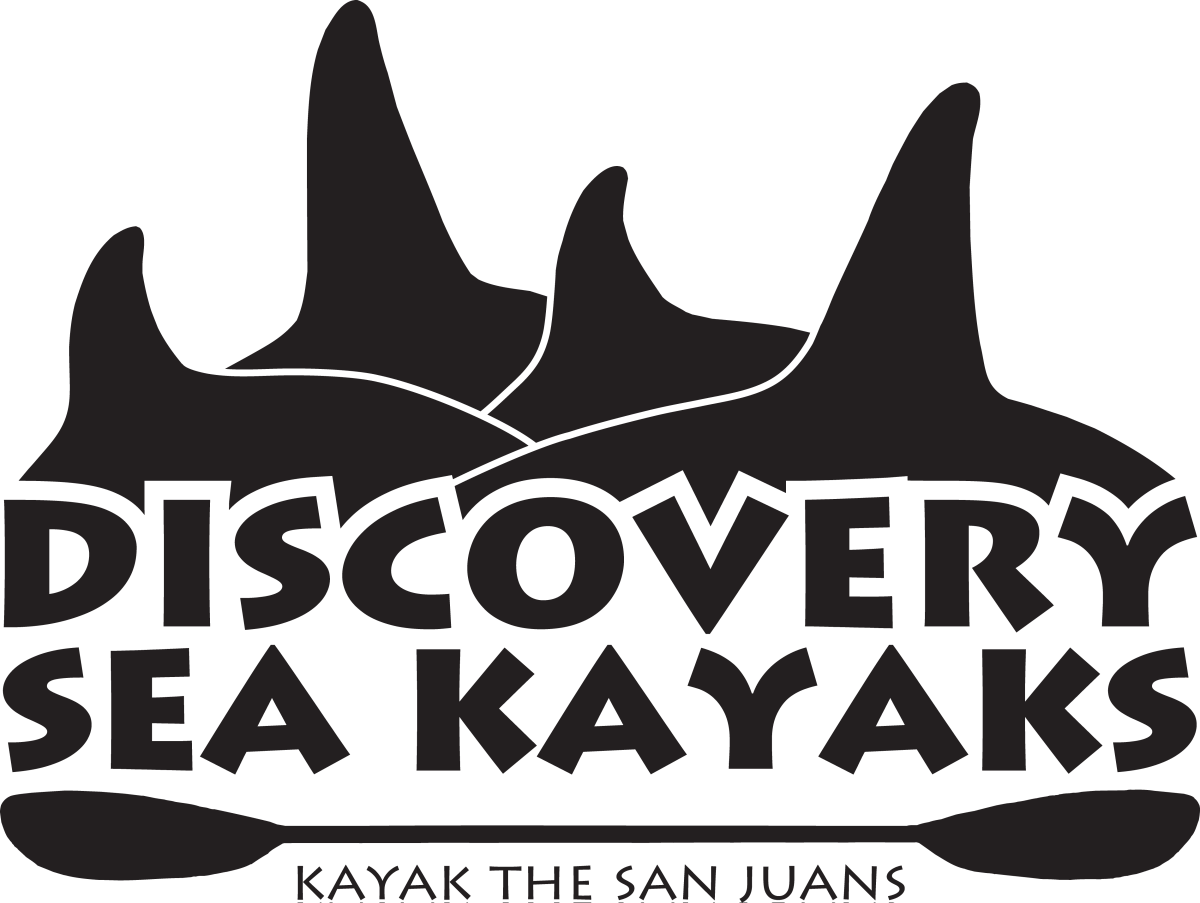 Questions or comments? Phone us at or send an email to [email protected]. You can also visit our contact page and submit an inquiry via our contact form.
Posted In: Discovery Sea Kayaks | Multiple day kayak trips | San Juan Islands | Sea Kayak