August 6, 2023
San Juan Island attracts visitors from all over the world, and it's no wonder why – this picturesque destination offers an array of outdoor activities and natural beauty. If you're a nature enthusiast, this is the place for you. 
The San Juan Islands, an outdoor paradise in the Pacific Northwest, provides a range of activities to fit everyone's preferences. Hiking trails with rewarding views, biking the county's scenic roads, or a beachcomber ready to explore the shores, there is something for everyone. Watersports such as kayaking, paddle boarding, and boating are readily available. With all the activities wildlife encounters are abundant, from marine mammals to foxes playing the prairies, there is a lot to see. 
When you visit San Juan Island, embrace the outdoors and disconnect from mainland life. Engage in outdoor activities with friends and family to make unforgettable memories. 
Biking
Explore the beauty of San Juan Island with one of the most popular activities, cycling! You can travel with your own bike and save some time by leaving your car in Anacortes and riding your bike on the ferry. Once on the island, you will have miles of roadways to discover. Though there are no official bike lanes around the island, the locals are accustomed to sharing the roads with cyclists.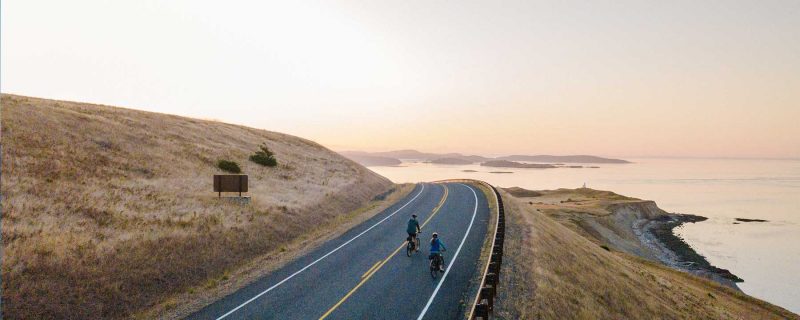 For those without a bike, worry not! You can rent Electric Assist Bikes or Standard Bikes from Discovery Adventure Tours, located just a short walk from the ferry dock. You have the option to reserve ahead of time or walk in on arrival. Reserving ahead of time will ensure the bikes are all set and ready for you when you arrive. 
The amazing office staff at Discovery Adventure Tours is more than happy to help you plan your routes and suggest the best destinations. After a brief tutorial on bike operation, you'll be free to hit the roads and take in all of the island's beauty. With routes ranging from 8 miles to 35 miles, each offering amazing sights.
For more information on bike rentals, please visit Discovery Adventure Tours website.
Safety is our top priority, we kindly ask that cyclists maintain their awareness of their position on the road and avoid riding alongside each other. This will allow traffic to pass safely without any issues. 
Plan your unforgettable adventure on San Juan Island. 
Sea Kayaking Tour 
Hands down one of the bucket list things to do on San Juan Island. 
Whether you are an experienced paddler seeking a dynamic playground with swift tidal currents and rocky shorelines or a complete beginner, we have the perfect guided kayak tours for you at Discovery Sea Kayaks.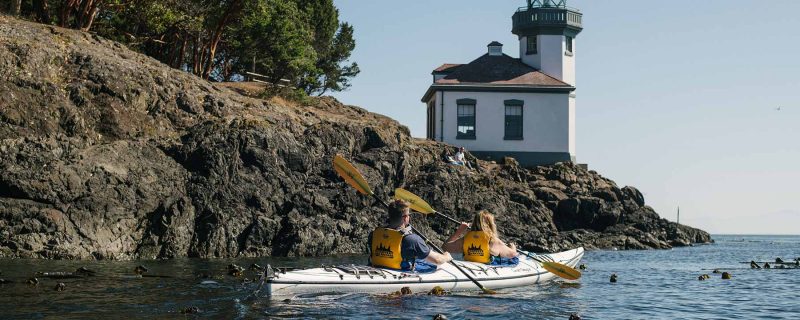 For experienced kayakers, the San Juan's offers an exciting adventure, but we highly recommend a guided kayak tour due to rapidly changing conditions and strong currents. Our guides know the waters, ensuring your safety and navigating most effectively throughout your adventure. 
At Discovery Sea Kayaks, we take pride in offering the best sea kayaking experiences on the island. Our commitment to excellence reflects in our ratings and reviews from our clients. 
Our most popular kayaking tours:
Bioluminescence Kayak Tours: Due to its popularity, it often books out months in advance. As the first outfitter to offer this specialty experience, we set ourselves apart by providing a truly exceptional experience.

Half and Full Day Kayak Tours: Beginner friendly and perfect for everyone. Unlike other outfitters, we paddle the west side of the island, increasing the chance to encounter whales and other marine wildlife. A classic tour that provides an unforgettable vacation activity. 

3-Day Kayak Tours: Take in the unparalleled beauty of San Juan Island with our kayak camping experience. The only fully outfitted multi-day kayak trip from San Juan Island. Everything, from top-quality kayak equipment to premium camping gear, fresh food, and beverages (Wine, Beer), is provided. With custom-designed menus catering to all dietary needs. All the details are covered from start to finish. 
We take pride in setting ourselves apart by providing exceptional service. This is how we do it:
Small Groups: There is nothing worse than getting stuck with a large group that slows down the process and reduces access to your guide. Not only does this lead to a more personalized experience, but it also minimizes our environmental impact. Smaller groups equal smaller footprints reducing the impact on beaches and other areas we visit. 

Safety: Your safety is our priority. In the wild, circumstances can arise, and we are prepared to handle them. Our staff completes extensive training to tackle any situation. We continually invest in learning and training to ensure our guides are at the top of their game.

Quality: We strive for excellence. Front top-quality equipment to expert guidance, we deliver the finest kayak experience possible. Putting you, the customer, at the core of everything, ensuring your adventure and experience is maximized. 
Join Discovery Sea Kayaks for an adventure of a lifetime.
Whale Watching 
If there's one thing that the San Juan Islands are renowned for, it's killer whales. As soon you drive off or walk off the ferry onto the island, you'll notice the island mascot displayed on the overhead sign. With two distinct ecotypes, Biggs and Residents, there's a high likelihood of encountering these amazing marine mammals on a whale-watching tour. While Orcas are what are most iconic to the islands, the region has a remarkable diversity of wildlife, including Humpback Whales and Sealions, providing visitors with an unforgettable experience. 
When it comes to choosing a whale watch company, you'll find plenty of options. When I have friends and family visiting, my only recommendation is the Western Prince. They have a team of knowledgeable naturalists who are amazing educators, and with their vessel, you'll get to the action swiftly.
For more information, visit the website for Western Prince. 
Hiking
Often overlooked by visitors to San Juan is the opportunity for hiking. Despite its small size, the island has two National Historic Parks commemorating the Pig War, each offering fantastic trails for exploration. I highly recommend visiting both parks, as they each off different hiking experiences. 
One of the island's more notable parks is Lime Kiln State Park, where the trail network may not be extensive, but the waterfront views are some of the best you'll find. The beautiful Lime Kiln Lighthouse adds to the attraction of the park. The area is also well known for being the prime spot to view killer whales from shore.
If you are looking for 360-degree views, check out Mount Grant, a location not commonly found in standard internet searches. From the top, you will have the best highpoint vistas across the island. 
The Roche Harbor Sculpture Park offers walking trails with local art throughout the grounds. Not a wilderness hike, but it is a perfect venture when visiting the Roche Harbor Resort.
You can visit the San Juan Island Trails Committee website for maps and details. 
Now you have all the details about the adventures awaiting you on San Juan Island, it is time to nail down your plans. To secure your spot for Kayak Tours and Bike Rentals, visit our websites, where you'll find real-time availability and an online reservation system, for a seamless booking process.
Our season runs from May to early October, the perfect time of year of outdoor exploration. If you are reaching us during the off-season, leave us a message or email. Secure your reservations now and prepare for an incredible visit to San Juan Island.
Questions or comments? Phone us at or send an email to [email protected]. You can also visit our contact page and submit an inquiry via our contact form.
Posted In: Discovery Sea Kayaks | Kayaking San Juan Island