August 22, 2016
September is fast approaching and many do not know its one of the best months on the island. Sure the first week is a bit busy with Labor Day weekend and everyone taking the last minute opportunity for a long weekend as the summer nears its end. But after Labor Day the island is still open for business. We will be operating San Juan Island Kayak Tours into October.
September is often one of the most beautiful months to be on the water. Warm day time temperatures and cool evening temperatures make for a perfect outdoor vacation. Join a whale watching tour for the day, reserve a day kayak tour or a multi day camping kayak tour, rent a bike and explore the island, or simply hike along the beach enjoying beautiful scenery.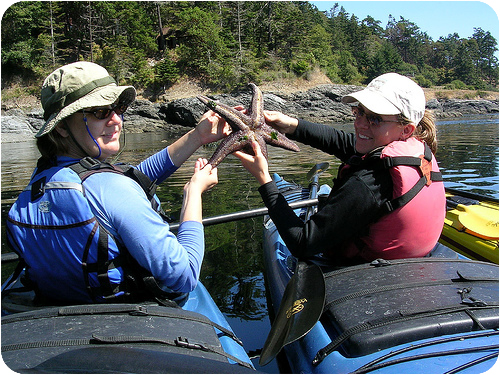 What about seeing whales? Well we never know exactly what each day brings but September has historically been a great month for whale watching. With fall nearing we generally see a diversity of cetaceans. Humpback whales pass through the area as they start their long migration, resident orcas feed on late salmon runs, transient orcas hunt seals and minke whales travel the coast searching for schools of bait fish.
We start to see the first of the migratory birds leaving Alaska that are heading south for the winter months. Eagles continue to patrol the area in search of fish. Young eagles that just recently left the nest are starting their own exploration of the islands.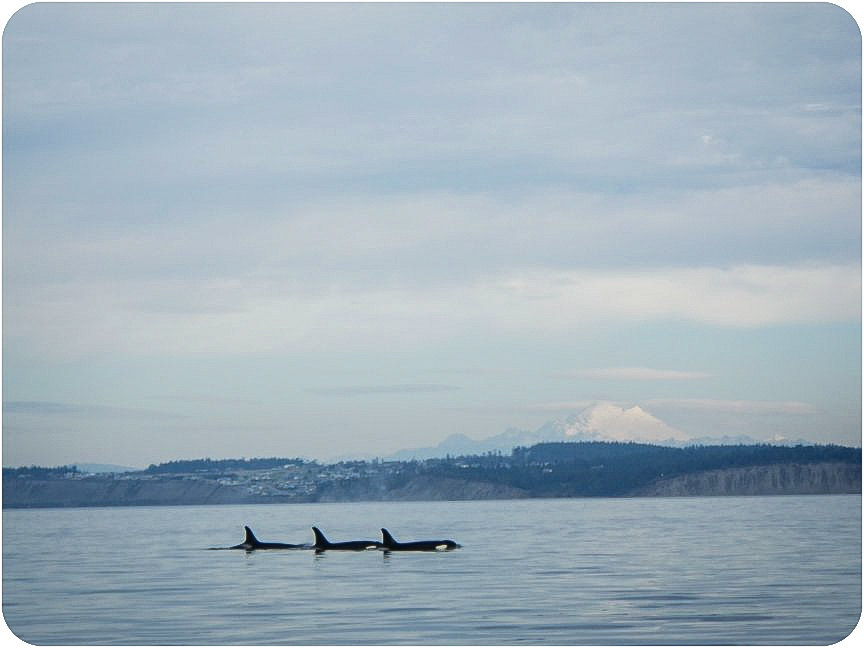 Friday Harbor is a small island town that can feel pretty busy in the heart of the summer. But as September gets started you can feel the change back to a slower paced relaxed small town. The beaches we launch our kayaks are free of crowds and guides welcome the September travelers.
Planning Your Visit
Reserve a room at the Discovery Inn located on the edge of town. Looking to be a bit further from town? Checkout the Trumpeter Inn for a nice B&B in a countryside setting.
Join us for a day or half day on the water kayaking. San Juan Island offers some of the best kayak tour scenery in the area.
Rent a bike and explore the south end of San Juan Island. A short and nice 10 mile bike ride from town is the American Camp National Park. You can park the bikes and enjoy many of the hikes or pack an lunch and relax at South Beach.
Go on a whale watching tour. Reserve a whale watching excursion with Western Prince and save 10% off the excursion if you have reserved a kayak tour with Discovery Sea Kayaks. Western Prince offers the best experience on San Juan Island for whale watching. Skilled Naturalist with amazing local knowledge provide excellent education and information on the area and wildlife. Captains operate in a responsible and respectful manner around wildlife.
Relax at the end of the day with a glass of wine at Mike Wine Bar and Cafe. Located in the heart of downtown enjoy outside or inside dinning. Mike is also the wine maker at Northwest Totem Wines. Pick your favorite glass of red or select a tasting flight. Plenty of good beers on taps as well.
September is a month that should not be missed. If you are traveling through Washington State the fall make sure you visit San Juan Island.
Questions or comments? Phone us at or send an email to [email protected]. You can also visit our contact page and submit an inquiry via our contact form.
Posted In: Discovery Sea Kayaks | Getaways | San Juan Islands | Sea Kayak