Discovery Kayak Guides
Your safety is our #1 priority. In addition to First Aid and CPR, all prospective guides have to complete a rigorous kayak training program and have an established knowledge of the local natural history.  Our guides are kayakers and outdoors people first, with years of experience on the water and the outdoors. In addition to extensive  in house kayak training program, guides are sent to numerous outside sea kayak and kayaking rescue skills courses.  This experience gives our guides  the highest standards of sea kayaking skills and leadership in the San Juan Islands.
Kayak Guides / Naturalist

Richard Swanson (DSK Original)
Usually the voice on the phone when you call and the face that greets you when you arrive at our shop. Richard Swanson has over forty years experience exploring the San Juan's by boat and kayak. When not traveling the world he resides at his home in Friday Harbor. He has traveled extensively by kayak throughout the San Juan Islands as well as the entire Pacific Northwest. Richard has combined his love of travel and kayaking, having paddled in Florida, Oregon,California, Hawaii, Australia and Indonesia but finds the San Juan's the most beautiful area to kayak.
Richard is a Certified PADI SCUBA Instructor and spends his off season as a Dive Master and dive guide in the tropics. He holds the PADI Medic First Aid and CPR designation, American Red Cross First Aid and CPR as well as Wilderness First Aid. He is Three Star assessed and Four Star trained British Canoe Union Paddler with BCU Lifeguard award and is a certified Naturalist with the San Juan Island Whale Museum.
His experience on and in the water and past experience as teacher and swim coach will make your paddle with us safe, informative, enjoyable and educational.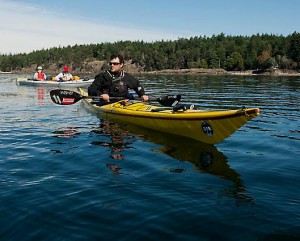 Jason Gunter (DSK Original)
A true American adventurer, superb paddler, gourmet wilderness cook, research naturalist, wildlife photographer with many of his photos used in books and manuscripts, extensive outdoor experience including caving, mountaineering, whitewater and sea kayaking.
Jason completed his BS in Biology from the University of Arkansas. He now lives full time on San Juan Island where he has been leading overnight kayak tours throughout the San Juan and Canadian Gulf Islands for many years.
"Leading multi-day trips is one of my favorite things about guiding, along with a chance to meet people and chat about the environment, wildlife, or great adventures"
First Aid and CPR certified, and BCU Three Star and Four Star trained. Jason also holds the BCU Canoe Safety Award. He enjoys demonstrating his paddling skills to his guests and can be persuaded to do his Eskimo roll for you.
Jason's motto
"A venturesome minority will always be eager to get off on their own, and no obstacle should be placed in their path; let them take risk, for God sake, let them get lost, sun burnt, stranded, drowned, eaten by bears, buried alive under avalanches-that is the right and privilege of any free American." –Edward Abbey-
Kelly Yelverton
(6th Season with Discovery Sea Kayaks)
When I was first introduced to the San Juan Islands in 2010 as an intern with Discovery Sea Kayaks, I considered guiding a fun summertime job option. By my second season I was completely obsessed with kayaking as sport and also as the most perfect mode of backcountry travel. My desire to work in the outdoors along with my constant drive to improve as a paddler has turned sea kayak guiding into less of a summertime job and more of a career path. As a history graduate from Lewis & Clark College, I particularly enjoy sharing the island's rich human history with guests. In 2013 I spent three months kayaking from San Juan Island to Skagway, Alaska with a friend. The experience reinforced my love of kayaking and the outdoors, something I hope to pass on to everyone I take out on the water..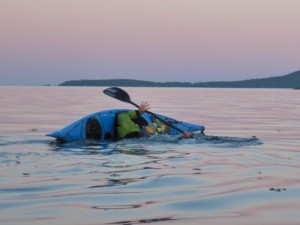 Chad Whiting
(5th Season with Discovery Sea Kayaks)
A flatlander from K.C. Missouri, I grew up with the amazement and wonder of mountains and the ocean always in the back of my mind.  It didn't take long for childhood fantasies to lead me off the beaten path.  While on a camping trip in Colorado, I called my boss, told him I quit and was living in Mexico a week later.  From there my travels expanded from glacier guiding in Alaska, guiding the waters of Cook Inlet and Prince William sound, finding hidden reefs in the mangrove forests of the Virgin Islands, diving with hammer heads in remote islands of Central America, to running sled dogs in the mountains of Colorado and finally the San Juan Islands.  Returning for my second year of paddling I try to bring the moxie and gusto of a seasoned adventurer to my trips. I opened a fortune cookie one time and it read "discontent is the first step in the progress of a man or a nation."

Brooke Greene
(4th Season with Discovery Sea Kayaks)
I grew up in Georgia where I spent most of my time playing sports! After graduating from the University of Georgia and working in the business world I decided working in an office wasn't for me. I attended an outdoor instructor training program in the UK and earned the BCU 3 Star Sea Kayak and Level I Coaching Award. I love going on big adventures and expedition style trips. I spent 3 months paddling the Inside Passage from Washington to Alaska with one of my best friends and fellow DSK guide, and I have biked from the Canada border to Mexico! I have been sea kayak guiding for the past 6 years in parts of Alaska, Washington, Patagonia, and Antarctica!